Accessibility & Independent Living Solutions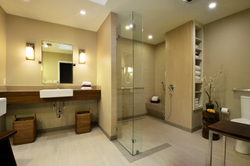 Modifications to your home today that will allow you to remain safe and comfortable for years to come is by far one of the best investments you can make. The piece of mind gained by creating a living space that will not only allow you to "age-in-place" but will be a welcome and inviting place for family members of all ages and physical abilities to gather and enjoy time together is the greatest return on your investment!
Designing for accessibility no longer means turning your home in to a place that resembles a healthcare institution. Many of the modifications that make our homes more accessible are the same type of conveniences and amenities we would all enjoy now. A spacious bathroom with a curbless shower designed for maneuverability can also be a spa-like place to relax and unwind, a zero-step entry makes moving or rolling furniture and appliances in and out a breeze, and having kitchen counters at varying heights allows kids to help out and can be easier on your back.
Simple changes like swapping out hardware on doors and cabinetry, installing grab bars, replacing your old lamps with touch lamps, and using brighter light bulbs are all small steps in the right direction. We can help you find appliances, hardware, fixtures and accessories for your home that will blend with its décor and make everyday tasks easier and safer. Some modifications are easily made while others are a little more complex, but all will make a difference in your ability to enjoy your home now and in the future.
RLC Contracting Company will do a home accessibility audit in which we will discuss the specific needs of you and your family, review key areas of your home for functionality, and make recommendations for immediate and future home modification solutions based on our overall assessment.
In utilizing universal design principles, we can create an environment that supports you throughout your lifespan allowing you to control your destiny, live independently, and enhance your home's visit-ability for family and friends with limitations.
RLC Contracting is an authorized distributor and installer of Mac's Lift Gate Systems including the Mac's Vertical Lift. There are many situations where there may be a need for access to your home via a wheelchair and a ramp is just not practical, Mac's Vertical Lift is the perfect solution. Take a look at macslift.com and give us a call for all your accessibility needs.