Kitchen and Bathroom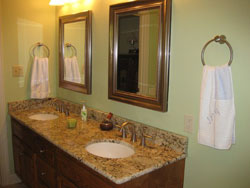 If you are planning to remodel your kitchen or bathroom, RLC Contracting Company is the award winning remodeler you want working with you from start to finish! Beginning with design and seeing you through to completion, our process will assure your final project is organized and cohesive! Quality workmanship shines through in our award winning kitchen and bathroom remodeling. Using a multitude of fixture and finish combinations we will create a design for your dream kitchen or bathroom that will meet your time line and your budget.
Kitchen Remodeling
Have your kitchen's dated cabinets and appliances finally lost their charm? From a simple facelift to a full blown expansion and replacement, RLC Contracting Company can see you through from beginning to project end. We will work closely with you to create your dream kitchen, a place where you and your family can gather to share a meal and make memories.
Let us show you how environmentally conscious choices can help you create a healthy, energy-efficient kitchen without sacrificing style or performance. With the wide range of options available we can find a price point for every budget.
Bathroom Remodeling
A bathroom can be a place where we seek to unwind from our crazy day or simply a functional room to get the business of cleaning up done - most often it is a combination of both. Whatever your vision, RLC Contracting Company will design the perfect atmosphere for you and your family. From the practical to the luxurious, there are options offered in fixtures and finishes to suit all tastes, lifestyles, and budgets. For those of us with an eye on energy efficiency and green living, a host of products are becoming available at affordable cost ranges.