Major Remodeling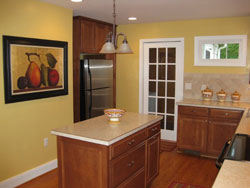 Design / Build
With our full service, in-house design/build capabilities, you will benefit from the convenience of working with one team from start to finish. Our award winning combination of attention to detail and custom craftsmanship results in concepts tailored to each individual client's needs and wants. Let us help you to create the interior or exterior space you have been dreaming of!
Whole House Renovations
Rather than relocating to a new home, let us work with you to transform your existing home into a beautiful new living space! Whether you are looking to redesign specific living areas, develop an entirely new floor plan, make upgrades to exterior areas, or save some money through energy efficiency retro fits, we are ready to make it happen. Redesigning and repurposing your existing space can be a cost effective way to get a whole new house without changing your address.
Room Additions & Expansions
Sometimes you just need a little room to breathe! Adding new space to your house not only increases your available living space, but also your investment value. Whether it's a new bedroom, family room, or garage, we will work closely with you to get the end result you want within budget and on time!
Master & In-Law Suites
Does a quiet space of your own with a cozy chair and a private bathroom that sets a spa-like mood sound like just what you need to relax and recharge after a hectic day? Are Mom and Dad in a position to want, or need, to be close to their family while still maintaining their privacy?
We have an intimate knowledge of the importance and level of sensitivity needed for both of these projects and are uniquely qualified to work with you to create the space needed for either.